July 14, 2023 - Comité de Bien Estar (Comité) is a membership non-profit located in San Luis, Arizona, that helps members build assets and strengthen the community. It supports Mexican Americans and new immigrants in overcoming the many barriers they face, including very low wages, little access to conventional financing and limited political representation. Since 2009, Community Housing Capital (CHC) has provided Comité $70 million in lending capital, including $36.7 million in single-family lending and $33.2 million for pre-development, land acquisition, multi-family construction, and permanent lending, with an additional 750,000 committed to be closed. With support from CHC, Comité has built 517 homes for low-to moderate income families.
CHC & Comité Partnership at a Glance
Working Together Since: 2009
Location: San Luis, Arizona
Closed and committed funds: $70.6 million
Number of loans: 17
Number of Homes Built: 288 single-family and 229 multi- family units
San Luis is a town of over 35,000 in Yuma County, in the southwestern corner of the state where agriculture is the major industry. The San Luis border crossing is a major point of entry into the state, primarily for agricultural workers crossing to work in the fields of Yuma County. The port processes approximately 3 million vehicles and 2.5 million pedestrians each year.[1] During the height of the Yuma harvesting season, tens of thousands of Mexican farm workers cross the border each day.
Comité was founded by farm workers and has now grown to effectively develop San Luis from an agricultural town with inadequate infrastructure and a large housing deficit into a residential community with affordable single and multi-family housing. Through Comité's efforts, San Luis has achieved homeownership rates higher than the national average, despite being a low-income, minority community. Homebuyers are reportedly 100% Hispanic, and consist of Comité members, farmworkers, and the general population of the San Luis area. Comité's business model encourages mortgage readiness and homeownership counseling. Approximately 90% of homebuyers have mortgage pre-qualification, pre-approval, or approval before seeking to purchase a home from Comité.
In addition to land development and its mutual self-help housing program, Comité services include Bien Estar Housing Resource Center, Border Financial Resources, BMG Property Management, Inc., Border Community Child Care Resource Center, and Comité Construction Company.
As Comité has grown and met the needs of its community, so too have CHC's loans. Altogether, CHC has provided 17 loans between $225,000 and $15 million for single-family lending, pre-development loans, land acquisition, multi-family construction, and permanent lending. CHC extended its first loan to Comité as it was obtaining membership to NeighborWorks – and has been meeting its lending needs for a decade and a half. In 2019, CHC sponsored Comité's successful $500,000 application to the FHLB Atlanta's AHP program and provided an $860,000 acquisition and predevelopment loan.
"Community Housing Capital has taken the time to understand what we're doing out here. They advised us, cleared a path when things got complicated, and trusted our vision. You can't ask for a better partner than that," said Gary Black, Comité's Deputy Director.
In its most recent project with Comité - the Valley View Apartments - CHC has been Comité's lending partner from the project's inception. This June 2023, CHC attended the ribbon cutting for Valley View Apartments and toured San Luis with Comité staff to see first-hand the organization's extensive footprint in the city.
CHC staff from left to right: Mona Elminyawi, Cindy Holler, and Debra Turner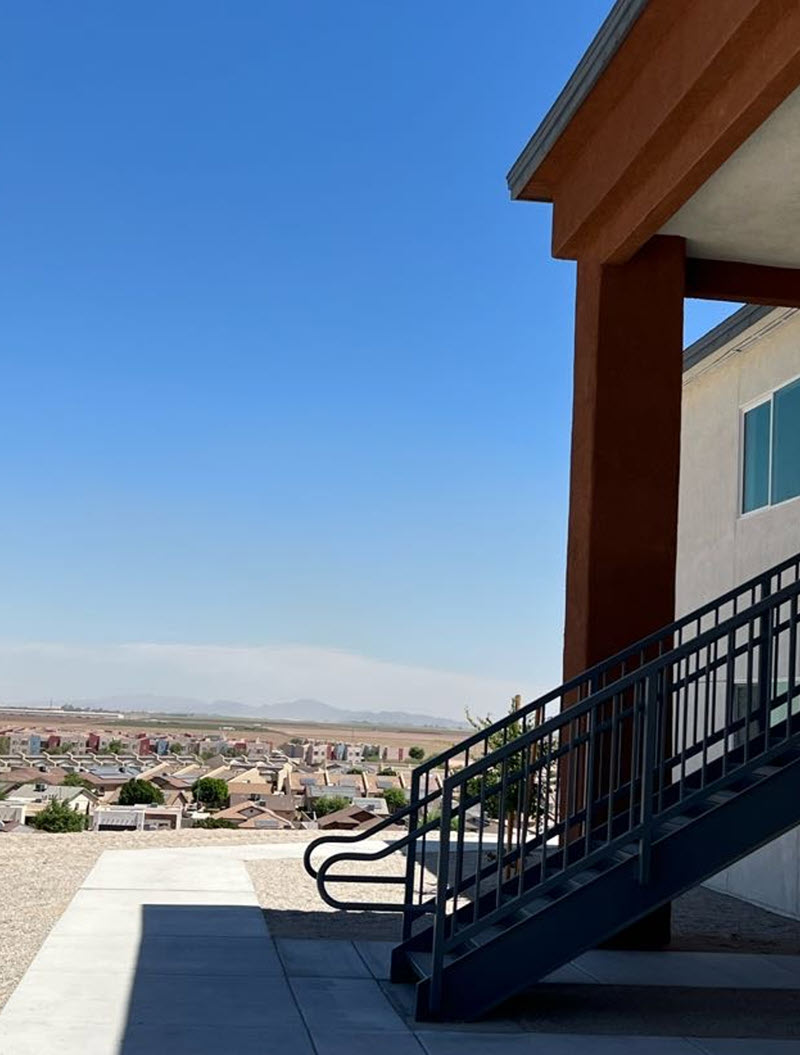 Apartment View of the San Luis Valley