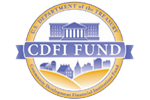 Funds will be deployed to affordable housing non-profit organizations in the NeighborWorks network and help address the significant unmet capital needs for minority communities and minority-led organizations.
Decatur, GA -- April 14, 2023 - This week, Community Housing Capital (CHC) was selected to receive $4.96 million in funding, which it will deploy to non-profit affordable housing developers across the country. The announcement was made by Vice President Kamala Harris and Deputy Secretary of the Treasury Wally Adeyemo on April 10 as part of a larger, $1.73 billion in grants to 603 Community Development Financial Institutions (CDFIs) through the CDFI Equitable Recovery Program (CDFI ERP).
"When we invest in community lenders, we help build a future where all people—no matter who they are or where they start—have the resources they need not only to succeed but to thrive, said Vice President Kamala Harris. "These grants—representing the largest CDFI grant program in history—will enable
hundreds of community lenders to invest in small businesses and entrepreneurs, and also provide home loans for families, financial services for local nonprofits, and capital for community organizations."
"The COVID-19 pandemic contributed to the 3-decade low in housing affordability across the U.S. – a challenge particularly acute for Black families and other families of color," said Cindy Holler, President and CEO of Community Housing Capital. "We are excited to infuse the funds back into communities that
need it the most and reverse the disinvestment we saw before and during the pandemic."
The $4.96 million in funding comes just a month after CHC's announcement of a $34 million fund to increase access to affordable housing for people of color, the CHC BIPOC Affordable Housing Development Fund. The Fund will infuse capital into communities of color and will prioritize minority-
led organizations that have been denied the same access to wealth-building opportunities as their white
counterparts.
CHC offers debt financing and strategic guidance to over 240 NeighborWorks Organizations located in all fifty states, Washington, DC, and Puerto Rico. According to its 2022 Annual Report, 85% of CHC's capital is put to work in low- and moderate-income communities and 64% is in communities where the
majority of residents are Black, Latino, Indigenous, or other people of color.
About Community Housing Capital Community Housing Capital (CHC) is a 22-year-old Community Development Financial Institution (CDFI) and 501(c)(3) created to facilitate the creation and preservation of affordable housing. Since 2000, CHC has, through its lending activity, created or preserved over 21,400 units of affordable housing and facilitated $2.9 billion in total development. Community Housing Capital is headquartered in Decatur, Georgia. For more information, visit its website at https://www.communityhousingcapital.org.
Media Contact:
Elizabeth Vivirito
This email address is being protected from spambots. You need JavaScript enabled to view it.
773-332-2570